Peace Dancer (Hardcover)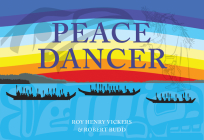 Email or call for price.
Usually Ships in 3-5 Days
Description
---
The children of the Tsimshian village of Kitkatla love to play at being hunters, eager for their turn to join the grown-ups. But when they capture and mistreat a crow, the Chief of the Heavens, angered at their disrespect, brings down a powerful storm.
The rain floods the Earth and villagers have no choice but to abandon their homes and flee to their canoes. As the seas rise, the villagers tie themselves to the top of Anchor Mountain, where they pray for days on end and promise to teach their children to value all life. The storm stops and the waters recede. From that point on, the villagers appoint a chief to perform the Peace Dance at every potlatch and, with it, pass on the story of the flood and the importance of respect.
With eighteen new illustrations from Roy Henry Vickers and exceptional narrative, Peace Dancer will delight readers of all ages and add to the collection of global flood stories.
About the Author
---
Roy Henry Vickers is a renowned carver, painter and printmaker whose Eagle Aerie Gallery in Tofino, BC, has become a provincial landmark. In 1998, Roy was appointed to the Order of British Columbia and in 2006, the Order of Canada. He is the co-author of the immensely popular Northwest Coast Legends series and the author of several books that showcase his art, including Storyteller (Harbour Publishing, 2014). He currently lives in Hazelton, BC.
Robert (Lucky) Budd holds an MA in history and has digitized many high-profile oral history collections including that of the Nisga'a First Nation. As well as co-authoring the Northwest Coast Legends series, he is the author of Voices of British Columbia (Douglas & McIntyre, 2010), a bestseller that was shortlisted for the 2011 Bill Duthie Booksellers' Choice Award, and its sequel, Echoes of British Columbia (Harbour Publishing, 2014). He currently lives in Victoria, BC.