Snowy Race (Paperback)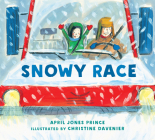 Description
---
Cozy up with this wintry journey! A girl and her father race their plow through a snowstorm.

Will they make it to the train station in time? And who's waiting for them?

This timeless seasonal classic captures the thrill of snow and the warmth of family. In the midst of a whirling snowfall, a girl and her father pile into their big red snow plow. Through slippery streets, up winding hills, they race-- clearing the snow and heading for the train station to meet a very special traveler.

Accomplished author April Jones Prince's beautiful rhyming text is just right for one or two readers. Featuring expressive paintings by the beloved illustrator of the New York Times best-selling series The Very Fairy Princess, Christine Davenier, Snowy Race is a perfect rhyming read-aloud.
About the Author
---
April Jones Prince is the author of many books for young readers, including What Do Wheels Do All Day?, a Child magazine best book of the year, and most recently, Goldenlocks and the Three Pirates, illustrated by Steven Salerno. She lives in Massachusetts.

Christine Davenier is the acclaimed illustrator of more than 60 books for children, including the New York Times bestselling series The Very Fairy Princess by Julie Andrews and Emma Walton Hamilton, as well as the New York Times best Illustrated The First Thing My Mama Told Me by Susan Marie Swanson, and Miss Lina's Ballerinas by Grace Maccarone. She lives in France.
Praise For…
---
"Prince's ('What Do Wheels Do All Day?') text is intriguingly spare, letting Davenier's ('The First Thing My Mama Told Me') softly exuberant wintertime scenes shine."—The New York Times

"Swift, impressionistic sketches filled with soft pastel-hued washes create pastoral snowy scenes that contrast with the warmer, more saturated domestic scenes and with the thick-lined, cherry-red snowplow. Long, layered smears of white create a satisfying illusion of a blizzard, and Davenier utilizes various interesting perspectives, such as the view into the snowy woods from behind the windshield. . . . A winning, winter race." —Kirkus Reviews


"The composition of the art and the increasing textual energy create urgency and tension as the snowplow battles the elements from page to page. . . . The text avoids labeling who the characters are to one another, leaving room for many families to find themselves in the story." —The Horn Book

"Rhyming, minimal text coupled with fetching illustrations by Davenier expertly convey the exhilarating drama of entering into a snowstorm as well as the comfy feelings of being in a warm house while the weather is frightful."—School Library Journal
 
"Prince writes with bustling verbs—slip, slide, chase, spin, whistling, howling, climbing, growling—as the plow chugs along, the snowy winds accumulate and father and daughter, always smiling, brave the elements.  The page turns on these landscape-oriented spreads are especially compelling as the vehicle plows through the snow toward its destination. At one point, illustrator Christine Davenier even puts readers in the vehicle, seated behind father and daughter as we look through the windshield with them. Reds, greens and blues pop off these snowy-white spreads, as do the lemony yellows of the snowplow's headlights and the sun trying to peek through winter clouds."—BookPage
 
"In this streamlined story in rhyme, the snow is piling up and our protagonist needs to get into town. Fortunately, her father drives the snowplow, so through the snow the pair go, with the occasional slip and slide, as they try to make it to town in time. . . . While there are touches of Davenier's familiar peacock tones and fluid watercolor washes, she's also got some grainier pencil-type textures that add coziness, and the outside scenes are creamily frosted, muting the hue of the tomato-red truck." —The Bulletin of the Center for Children's Books