The Harley-Davidson Motor Co. Archive Collection (Paperback)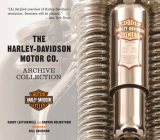 List Price: $30.00
Our Price: $9.98
(Save: $20.02 67%)
Description
---
Who knew more than one hundred years ago that the freedom-loving, speed-hungry, cutting-edge motorcycle fanatics who founded Harley-Davidson were making history along with bikes?  The Harley-Davidson Motor Co. Archive Collection, showcasing a century of bikes that shaped motorcycle history, brings that history to gleaming life in page after page of motorcycles beyond compare.  This book gives motorcycle enthusiasts an opportunity to pore over the bikes in Harley-Davidson's collection, and to linger over every detail that made Harley-Davidson such an icon of American open-road power and performance.  With exquisite, detailed photographs and histories of the motorcycles featured from Harley's collection, from serial number one built in 1903 to the latest low-slung Softail high-revving VRSC and touring models, this book captures the excitement of the best-known motorcycles in the world.  All that's missing is the patented roar, which readers are invited to supply.
About the Author
---
Randy Leffingwell wrote his first book, American Muscle, in 1989 while still on staff at the Los Angeles Times. Since then, he has authored another 47 titles for Motorbooks and its sister publisher Voyageur Press covering subjects from sports cars to motorcycles to farm tractors. Leffingwell is considered one of the top Corvette historians working today, and he enjoys a close working relationship with Chevrolet as well numerous other manufacturers. His  previous Corvette titles include Art of the Corvette; Corvette Fifty Years, Corvette 60 Years, and Legendary Corvette. He lives in Santa Barbara, California.
Darwin Holmstrom has written, co-written, or contributed to over thirty books on subjects ranging from motorcycles and muscle cars to Gibson Les Paul guitars, including Indian Motorcycles, GTO: Fifty Years, Let's Ride: Sonny Barger's Guide to Motorcyclying,Top Muscle: The Rarest Cars from America's Fastest Decade, BMW Motorcycles, The Life Harley-Davidson, and The Complete Idiot's Guide to Motorcycles. Darwin is the senior editor for Motorbooks. Prior to that he served as Midwestern editor for Motorcyclist magazine.
Randy Leffingwell (Montecito, CA), best-selling MBI author and renowned photographer, has earned a reputation as one of the most thorough researchers working today. He has written and photographed over two dozen books on topics ranging from tractors to motorcycles to cars to barns. Darwin Holmstrom has written or co-written many books on motorcycling, including the best-selling BMW Motorcycles and The Complete IdiotÃ?s Guide to Motorcycles. He also contributed essays to The Harley-Davidson Reader and Harley-Davidson Century. Darwin lives in Maple Grove, Minnesota. Bill Davidson is the vice president of core customer marketing for Harley-Davidson Motor Co. He lives in Milwaukee, Wisconsin.